Bengaluru - RMZ Ecoworld
Vivero International Pre-school and Child Care at RMZ, Ecoworld offers research based early year's education and enriching child care programmes for children aged 6 months to 10 years. The integrated programmes deliver on a quality pre-school curriculum and best teaching practices, combined with excellent child care services. Our exceptional child care offering ensures infants and toddlers are provided with expert care whilst simultaneously engaging in curricular activities.
Purposeful planning, careful thought and genuine intention has gone behind the design and layout of this massive 8500 sq. ft. campus merging indoors with outdoors as in a typical Reggio Emilia school. Classrooms are well-lit, and teacher-student ratios are respectfully maintained, to ensure proper attention given. The centre includes various learning zones and Ateliers along with extensive outdoor play space to intentionally support the environment as "the third teacher" and encourage children's curiosity, creativity and interests. Our prized, Apple-enabled tech studio is designed to teach our little learners to use technology mindfully, and assist in knowledge-building, digital citizenship and conceptual learning.
We maintain high-quality standards of safety, health and hygiene in our environment – CCTV coverage encompassing the entire school, daily temperature checks, 24 hour security, biometric entrance, background clearance on all support staff, scheduled fire drills, weekly deep sanitization of the school, child friendly furniture and resources, and well-trained staff are just a few measures that we strictly adhere to. Freshly prepared snacks and meals are served to children from our in-house kitchen. A nutritious menu plan is diligently followed, ensuring children have enjoyable, healthy meals in our care. Our team is devoted to providing the families with a joyful educational experience that fosters overall development, and a multifaceted environment where the child is safe, happy, healthy and well cared for by educators and care-givers, who display heart in their profession.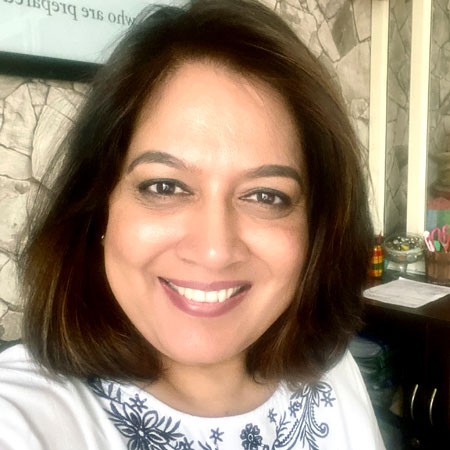 Ms. Seema Pillay – School Head
Ms. Seema holds a Degree in Economics from University of Mumbai. She volunteered and studied for Early Childhood Education at Eton House, Singapore. Upon returning to India she started her own franchise of Serra International Pre-school, her experience in running her own school helped her gain more knowledge about early years education in India. Ms. Seema has now joined Vivero International as School Head and is looking forward to continuing to make a difference in the life of young children while pursuing her passion in the field of early years learning and development.