Pune - Pimple Saudagar
Vivero International Pre-school and Child Care at Pimple Saudagar is located at one of the main junctions.
Our Pre-school programme is designed for the Early Learning Years and specially caters to the defined needs of children between the age group of two to five years across four grade levels. The Child-Care programme has been created to accommodate the holistic requirements of children between the age group of one and a half years to seven years.
Inspired by the Reggio Emilia approach, the pedagogy at Vivero on the image of the child and 'Environment 'which is seen as the 'third teacher.' All learning spaces at Vivero are set up with artful corners and thoughtfully selected 'manipulatives' that inspire children to inquire, think and learn. Children can choose from a range of learning corners that are set up within the premises. The Art atelier, or 'Picasso Point' encourages creative literacy as children work together to create some masterpieces. The Reggio Emilia approach is based on the idea that every child has at least, "one hundred languages" available for expressing perspectives of the world. One such language is music. The Music and Movement Atelier allows freedom of expression using music as a medium. The Sensory corner enhances a child's five senses as he engages in materials that provoke meaningful learning. These extraordinary learning ateliers are intended to offer a welcoming environment for children where they may freely investigate their surroundings and avail a series of wonderful opportunities to enhance critical thinking, imagination, interest and mindfulness.
At Vivero, Co-Curricular Activities are led by experts. These are a part of the enriching pre-school & childcare schedule with customary music sessions, introduction to a foreign language, sports and wellness classes.
Integrating technology into the classroom is an effective way to connect with students of all learning styles. Our exclusive Tech-room on the third floor is designed to encourage and facilitate conducive learning in an enriched environment. With various iPad applications and technology like 'Cubetto' and 'Dash', our two robot aides, learning is made more meaningful and fun.
A highly dedicated team of facilitators and caregivers form the base of Vivero. A well designed recruitment process ensures quality of staff who involve children in various activities and well – rounded and productive routines. All personnel at Vivero are trained in administering basic First-Aid and operation of local fire extinguishers if required.
Safety and Security are of utmost importance to us and we ensure that our campus is childproofed in all anticipation, while surveillance cameras have been duly installed at strategic points. Trained security personnel are also stationed at the main entry-exit point at all times. Health and Well-being is another aspect which is given due importance to. Our in-house kitchen caters to the children's daily meal requirements with wholesome, nourishing vegetarian meals.
An important feature of Vivero is our keen collaboration with parents as partners in the child's learning journey. With the 'Friends of VIVERO' venture, we have been successfully working hand in hand with our ever-growing parent community in order to make every day a joyful one for our children.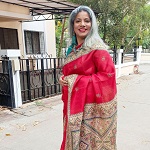 Radhika Srinivasan - School Head
Ms Radhika Srinivasan joins the Vivero International family as the School Head . She has been associated with school operations throughout her career of 16 years. Her recent assignment was at Vivero International Pre School & Childcare, Wakad.
Ms Srinivasan holds a Master's degree in English Literature and Personnel Management along with a Bachelors in Education. She also holds a professional diploma in Training and Teaching from Cambridge University.
With a strong belief in progressive learning methodologies, Ms Srinivasan says that "children have abundant energy which if channelized right from young age effectively, will lead them to be successful human beings in all spheres of life.