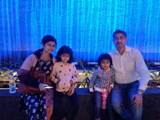 This is to say a BIG thank you to the entire SERRA/VIVERO family which includes the School Head, Teachers and the Mavshis!
Avni and Anika Kumar have been associated with Serra since 2014. It has been a second home for us all.
A place where I dropped my children before leaving for office and being assured that they will be completely taken care of by the entire team.
The experience has been fascinating and memories will always be cherished!
Both my children have always enjoyed the school and the day care at SERRA/VIVERO and they have learned so many things.
The Mavshis, day care teachers, class teachers have always ensured that children are well taken care of while we are not around.
There has not been a single day wherein after having dropped my children, I have received a call back saying that things are not going well and please rush back to school to pick them up.
Whenever I have called them to know how are they doing , I have always been ensured that all is good and they are enjoying! And each time I have picked my children from school/day care I have always found them happy, satisfied and SMILING:) and wanting to stay back more in school!
I am surely going to miss SERRA/VIVERO going ahead and so are my children! I do not think I have yet found a home like SERRA/VIVERO till date!
Thank you once again for all the support!!- Seema Gupta, Mother of Avni & Anika Kumar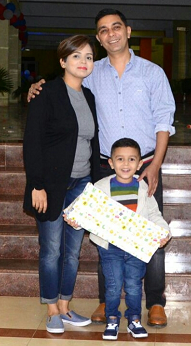 As the parents of a young toddler, the biggest parental challenge is to find the right school which can groom the kid and lay a strong and sound foundation for him to cope up with the future. The challenge assumed greater proportions for us being in the armed forces wherein frequent moves disrupt the education. But we were fortunate since we got our son enrolled with Vivero. Having heard about the school from known acquaintance we were sure that the choice will be fruitful. But as we look back, IT has proved to be much beyond our expectations. The school with it's ever cheerful and energetic staff has really transformed our toddler into a super confident and expressive boy. His communication skills and written expressions have taken a phenomenal leap in the two years that he spent with Vivero. The most commendable part of his learning has been that we at each stage were informed by the teachers personally wherein we were counselled to undertake actions for taking forward the growth of our child. As our child moves to the new school, we express our heartfelt gratitude to the school staff for having taken pains in grooming our child and preparing him to take on the new challenges with ease.- Col Rishi Bhanot & Ms. Pooja Bhanot,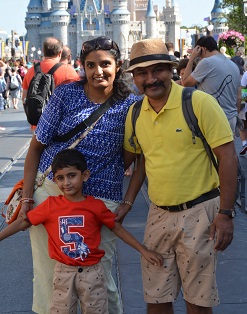 Niboddh joined Vivero (SERRA) two years back. When we came to India from UK, we were looking for a school which would make his transition from UK to India smoother. The first thing Niboddh fell in love in the school were the drums. We loved how the school was set up. The outdoor play area with toys and vehicles, the tree house, the display of the art work by the children and the musical instruments. He started his journey in the K1 class. Though he was a month late, his teacher and didi welcomed him with open arms. They never let him feel like a newcomer. I was worried initially if he will be able to adjust but there was nothing to complain. I loved the fact that they worked with the child and didn't push him/her to be like others. He was never forced to do something. He was always encouraged to try new things. There was always hands on learning. I remember the day when he was so proud that he could explain me the life cycle of frog and life cycle of clown fish. I also appreciated the fact that there was no competition on Sports day. Kids enjoyed in participating in game rather than the pressure of winning. The journey of learning continued when SERRA changed to Vivero. The concept of entrepreneurship was introduced. Niboddh was so excited to sell me the card and the friendship bands made by them. The money collected by them was used for a good cause. They were involved in social causes and civic responsibility. Lot of learning was done via the field trips which made them remember the concept. The student led conference was also a wonderful experience for Niboddh as he was able to demonstrate what he had learnt to parents and answer their questions. It provided confidence and sense of achievement. Niboddh loved the science experiments which helped him to understand concepts like Energy. Niboddh also loved learning French. Niboddh loved going to school as there was something new to expect every day. He was quite sad on the last day. He still misses his school and he wished he could hug his school.- Mr. Soumyajeet Mahapatra, Lead consultant in Infosys.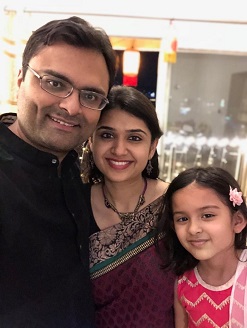 When we enrolled Sahaana in K1 in Vivero (then Serra), she was at once impressed by her new school thanks to the thoughtfully designed and attractive infrastructure. Be it the fun tree-house or the creatively decorated classrooms, everything appealed to her. In no time she was very comfortable with her class and teachers and became a part of the Vivero family. The entire staff at Vivero, inclusive of the support staff has been very caring, professional and courteous. Her teachers have been extremely loving and play a major role in her holistic development. They have always provided positive strokes which ensured ample opportunities for her to express herself. We have had immensely proud moments like watching her confidently address the audience at the annual concert and participate tactfully in sports activities. We would like to thank Vivero for transforming our little girl into a confident individual who is now ready to take on the next chapter in her life.- Mr. Gopal Keswani, Vice President - Deutsche Bank - Ms. Suruchi Keswani, Assistant Vice President - Deutsche Bank

Our daughter, Samaira Shetty is a student of your Nursery morning batch.
Firstly, we would like to express our most sincere gratitude and appreciation for the efforts taken by teachers and the rest of the staff to make my daughter feel comfortable in her new school. We often wondered how our dear daughter would do in the outside world but in Vivero International she was showered with so much love and affection that she eventually loved being a part of the school.
She has become more confident today in interacting with new people & socializing. To see her perform in the annual function was just a jaw-dropping moment for both of us, we never knew our daughter would perform on stage with so much confidence. We really commend all the efforts put in by her teachers. We feel being a part of Vivero International was one of the best decisions we have taken for her, it has now become a memorable place for the rest of our life.
We proudly brag around our friends and relatives that she is a part of Vivero International when they see how confidently she carries herself.
As proud as we are to be associated with the Vivero International family, we do feel deeply sad that due to unforeseen circumstances with my job, we have to relocate to Mumbai.
Thanks again for your time and kind cooperation- Jairaj Shetty, Father of Samaira Shetty

We would like to highlight and appreciate what a great year it has been for our daughter Sanaya in Vivero under the constant love, care and guidance of her teachers and support staff.
June 2017 was the time when we as parents were deeply concerned as Sanaya was a shy child having stranger anxiety issues, a child who was lagging in some social/motor skills and would not leave us for anything.
A BIG thank-you to her class teachers for the constant efforts that they have put throughout the year to ensure Sanaya comes out of her shell and develops the skills and confidence a 3 year old toddler should possess. We feel this would not have been achieved had she not got this level of care, patience and understanding with a beautiful blend of assertiveness from her teachers. The well placed and wonderfully hosted events across the year were also something we looked forward to. A special mention for the didis as well who were always around with a smile on a bad day.
Today, we as parents find her to be much brighter, confident and socially interactive, something that has been observed and appreciated by us and our immediate family and friends as well.
Please pass our thanks to the entire team at Vivero, the difference has been remarkable and we look forward to June when the next year begins! - Kashmira and Darius Buhariwala, Parents of SanyaBuhariwala

I have been associated with Vivero International Pre-School for the past 3 years and since then it has been a joyful happy journey for my son as well as us. Not just the pre-primary education but Vivero has provided my son the wholesome experience a pre-schooler needs at this age. Be it the annual day concerts or the sports day or a carnival, Vivero has always made every experience special and memorable. Me as a parent couldn't have asked for a better education facility and all round development of my son. Thank you, Vivero. - Supriya Nagrani, Proprietor, Red Carpet Interiors, Mother of Supriya Nagrani (K1)

We are very happy and at home with Vivero. Our child has been here since pre-nursery and we see him blossom and grow each day with gaining and acquiring something new and relevant to the times.
We cannot fail to mention the warmth and care that each of the teaching members and all the support staff extend to all the children and parents as well at Vivero. In my view the School Head, teachers, Co-ordinators, Parent Relationship Manager, all have been extremely instrumental in helping our child absorb the schools every day creations and learnings especially with the warmth provided which helps the child's interest to prevail on learning a new uphill task whenever introduced to shape them for tomorrow. All the activities and events envisaged such as parents sports day, culmination day, children outdoors are very well organized and executed. Such events become so meaningful and help parents to meet each other and have a healthy understanding and exchange of ideas on our children's development and challenges with their probable solutions.
I would like to mention that the environment here has a unique character and a pull of its own, this we feel, and when outside in our lives, we are asked which school does your child go? And we hear a lot of positive and encouraging words from the people whom we or our child interact regularly. We plan to enroll our second child soon at Vivero and wish that the management also soon comes out with a full-fledged school enabling us to be at ease with our child's future and the school can help enlighten a larger spread of students.
Nothing made us more happy than when some days ago when a senior member of the Vivero management mentioned that our child is growing and maturing in a very positive direction and does have it in him to endure the times and become triumphant. We owe all this to every nuance of Vivero's effort in building a very healthy and accomplished society. - Nitin Singh, Director, Astrasky Logistics and SCM India Pvt Ltd, Mother of Adi Singh, K1

It's been a wonderful journey for us with Vivero. This is Ria's fourth year at Vivero and she has loved coming to school every single day. We don't have any tantrums in the morning about coming to school and to see your child so happy in school is all that a parent can ask for. Another thing that was important to us was safety and we are very satisfied with the efforts the school puts in this regard. The teachers, maushis here are incredible and take good care of the kids. Right from the cheerful Good morning when the child enters the school, the love and warmth really makes a parent feel good that the child is in safe hands. - PiyushJajoo, Principal Consultant, Infosys Ltd - ShagunJajoo, Faculty- Finance, Symbiosis , Parents of RiaJajoo (K2)

We are very happy for having chosen Vivero International Pre-school for our daughter. She became comfortable in the school in no time and is till date very excited to go to school every day. In fact she likes working days better than holidays! The teachers and the entire staff is very friendly, helpful and energetic which reflects on the smiles of the kids. The curriculum is progressive andextracurricular activities like outdoor trips andfestival celebrations help in widen the children's horizon and build social, mental and emotional skills of the tiny tots.
In a nutshell, we are confident that our little girl is getting the right atmosphere and guidance from the right set of people in laying the foundation right, which will go a long way in shaping her personality.
Wishing good luck and continued success to Team Vivero& definitely a Big THANKS for taking care of my daughter. - Tanna Sachar, Free-lance Artist, Mod Bauble (India), Mother of Heba Sachar (K1)

We are from Germany and are staying here in India since 2 years now. We are happy to have such a lovely place for Hector where he can learn and explore the interesting things of the world. After a short time in class he settled down and this is because of the loveliest teachers I've ever seen. We say thank you to all, especially for the smile on Hectors face when he comes to school every morning.- Rebekka Seitz, Physio therapist, Mother of Hector Seitz, Nursery

Our older daughter Divyal is an alumnus of Vivero and the younger one Anokhi is currently in nursery. We found both the teaching and the non-teaching staff very affectionate and understanding in addition to being extremely competent. They helped Divyal become self reliant and confident. The flexible curriculum along with a lot of love, plenty of playtime, creative and fun projects, encouragement and a little discipline gave space to our child to grow at her own pace.
After our wonderful experience with Divyal, we really couldn't think of a better place for Anokhi, to begin her "formal education"
Energy, enthusiasm and love from the teaching as well as the non-teaching staff members has made our child feel very special. To the amazing team of Vivero... Thank you very much.- Mridula, Teacher, Army Institute of Technology, Mother of AnokhiKamerkar (Nursery)

The three primary things (in no particular order) that have endeared Serra to me are - the environment, the people and the learning.
The Environment- Considering the fact that the child spends close to three hours at school, it is my personal opinion that the premises or the environment are very important. The beautiful play area and the openness within the school give the child a sense of freedom which is rare to find, especially within the city.
The People- The warm welcoming smiles and greetings from every member of Serra - be it the watchman, or the office staff or the maushis and teachers light up every child's and the parent's day! As a parent, it also makes me happy sending my child to a place where he is under personal supervision of his amazing teachers.
The Learning- The charming nooks within the school comprising the aquarium, the rabbit den, the herb garden, the water pool and the bird cage to name a few, engage the child and encourage learning that no books can offer. It is endearing for me to see my child grow up learning to pet a rabbit at the age of two.
Lastly, the very fact that my son dreams and even talks in his sleep about his school and his teacher, speaks volumes about Vivero! Vivero is indeed a second home for Veer. - Vaidehi Thakkar, Proprietor, Spaces, Things Et cetera, Mother of Veer Thakkar, Pre-Nursery

I would like to share my experience as a parent of a toddler - Yana Verma. Overall I must say that the last 14 months have been a great journey - for our daughter, Yana who has been able to pick up the right social skills and has been rapidly developing a personality of her own. More so, the warmth that she has been provided in school - from her caretakers, teachers and day care alike keeps her excited every morning to go to school.Serra has also provided us different forums to engage with Yana at school and helped us like a coach through multiple parenting sessions / events organized by you.All three of us are thankful to Serra for providing the right atmosphere and being a second home for Yana in her formative years.I look forward to Serra coming up with a school beyond K2 which we would keenly consider for Yana, further.While, I write this to an individual email ID, our thanks to the entire Serra team for being what they promised. Special mention to the support staff to - the Mausi's, Security and Support staff and the ever-enthusiastic day-care teachers. - Neeraj Verma, Father of Yana Verma (Nursery and Child Care)

My son Farhan and I have been a part of Serra since the mother toddler program. Currently he is in nursery. I love the simple and creative techniques that the school follows to impart values and knowledge to the children. Farhan maynot come and tell me every day what he does in school, however when I do see him washing his hands before and after his meals or reciting nursery rhymes with so much zeal and creating alphabets and numbers from objects lying around the house, I know that Serra is responsible for that ! They allow creative freedom which is so important in their growth.
He cries when there is no school and wants to go to school even on sat and Sundays. - Neha Pastakia, Owner, A Hen Bakes, mother of Farhan Pastakia (Nursery)

Thank you for providing excellent childcare services along with personalized attention to my daughter Ms. Aneesha Deshpande. We are happy to be associated with Vivero.
The warmth of the teachers and support staff is excellent. We appreciate the comfortable atmosphere you provide. Once again thank you all very much for everything that is provided to my daughter.
We would also like to recommend your center to all our friends.
Wishing you and your team all the best for years to come. - Anup Deshpande, Father of Aneesha Deshpande

To Define Vivero:"Outstanding care, heaps of fun and great activities for children"
After our first interaction with Vivero, we were offered a visit to the school where we met their wonderful and professional management. We loved it and we enrolled our child to their programme. Everyone was warm, welcoming and keen to help us settle in. They quickly put our mind at ease and showed us an exciting and stimulating environment for my little one to be in. The staff had the perfect mix of nurture, fun and guidance across the age groups. They were always willing to try to accommodate our requests. Cuddles were always available when needed.
We chose Vivero for our Little angel because everyone seemed friendly and enthusiastic. We feel it's a wonderful place for Rudra to be in at his Inception stage. Rudra lives a fuller life since coming to Vivero International. He has become independent and confident.
As a first time mum, I was nervous about leaving him at such a young age to go back to work, but the Vivero staff quickly put me at ease by catering very well to his specific needs. I found the entire staff to be very helpful and friendly, and the curriculum provides a wide range of activates to keep him occupied throughout the day. He loves going to Vivero and often has so much fun that he does not want to leave! I would definitely recommend Vivero to anyone looking for a friendly local nursery'. - Latika Bhatia, Mother of Rudra Bhatia (Nursery)

Vivero is like a second home for my daughter Divyansha. The staff and teachers are almost like family. If I could go back in time to my childhood I too would love to be in Vivero myself. I would like to thank the teachers, staff and management for taking such good care of my daughter in a warm and loving environment. Vivero is indeed a home away from home. - SwapnaliShirole, Mother of DivyanshaShirole (K1)

Vivero is not just a school for me; it's a second home for my child. It's a home away from Home. Vivero is the best garden where I have sowed my precious seed and it is getting nurtured in a natural and beautiful way. One day he will be known as the best flower in the WORLD!! The staff members are very co-operative, professional, highly qualified and are a pack of energy boosters. The non-teaching staff is really well trained and caring. My son's skills have developed a lot at such a small age. He is learning and is involved in many different types of activities, which help in stimulating his brain in every manner. The events of the school are awesome and are very well organized. I pay my respect and am very thankful to the Vivero staff especially the PRM for being the most supportive. She provides us with any kind of help ant any time when needed. The class teacher is not only a teacher but a motherly figure for our children. We are looking forward to Vivero opening a primary and secondary school so that we need not worry about our child's further studies. I'm proud to say that my child is studying at Vivero International. - Anushweta Singh, Mother of Aarush Bhutada (Pre-Nursery)

My search for a good pre-school for my son Shaunak ended with Vivero as it met my criterion of positive environment, qualified teachers and trained support staff. Vivero has an environment conducive for learning that increases propensity to learn. School has excellent teachers who are dedicated, loving and encouraging. Their progressive approach is helping Shaunak to explore, to ask questions, to figure things out, all the while learning to be respectful of others. Support staff is caring which assures me that my son is in safe hands. My wife and I appreciate the efforts put by entire Vivero team to foster the growth of our son.- Rakesh Sharma, Father of Shaunak Sharma (K1)

A nice school, good teaching staff and spacious play area, overall it is an excellent platform for any child to start school.- Ramkrishana, J. Father of Vartika (Nursery)

Vivero International is a pre-school endowed with excellent infrastructure, good ambience, well trained and cheerful teachers and helpful support staff. My son gets the best grooming from them.- Ghosh, Mother of Kushan Ghosh (Nursery)

The child friendly atmosphere at Vivero International is what I appreciate the most. Every staff member knows each child by individual names and is always welcoming.- Parekh, Father of Arya Parekh (Nursery)

Standard of cleanliness and hygiene is very high at the school. The teachers are very co-operative and always have innovative ideas.- Gadsing,Mother of Radha Gadsing

We didn't know what to expect from a pre-school initially, but after a year in Vivero we know what to expect, especially when considering Jakob's future educational options. We have kept SERRA as a benchmark. The past one year was full of surprises, the changes we saw in Jakob were huge, everyday he surprised us with new songs, words, activities etc. Vivero made us realize that our son is a genius in his own capacities. Our sincere thanks to his class teachers who mentored him with patience and love. We still remember how he used to cry during his initial settling in months and how his wonderful teachers patiently turned him into an amazing student. Vivero is always the first preference for us and we will continue to recommend it as the best pre-school in Pune to our friends and relatives. Vivero was like an extended family to Jakob and us. We will cherish the days spent here always.
Excerpts from a note of appreciation. - Jayi & Johan Bobby, Parents of Jakob Bobby (Pre-nursery)

The school premises and infrastructure is well planned for the children. The school is clean, hygienic, and disciplined. Teachers and staff are very friendly with the children. - Patravali, Mother of Kevalli (Pre-nursery)