Pune - Wakad
Vivero International Preschool & Child Care, Wakad, is a secure and comfortable preschool located in a standalone commercial building. Spread over 8,000 sq feet, this expansively laid-out school has thoughtfully demarcated sections for preschool and child care.
Large and spacious classrooms and well-ventilated spaces enables inquiry-based learning. Ample natural light and state of the art infrastructure gives our children at Vivero the most conducive environment to achieve our purpose of shaping lifelong learners.
Along with the infrastructure, we have unique Ateliers to enhance learning experiences for our children. The ateliers at Vivero Wakad are multi-dimensional; for example, elements of Mirrors and Patterns come together in the atelier which promotes problem solving, creativity, curiosity and self-awareness.
The school also has a Transport atelier for children who prefer quiet play during the usually boisterous outdoor play time on the 'Burma Bridge, incline climb', slides and see saws. To inculcate the basics of work experience, we motivate our children to plant and maintain a herb garden in the school premises. We also encourage children to understand co-existence in the environment; therefore, we maintain a few pets such as budgerigars and a guinea pig which are extremely friendly with children.
Attractions such as the exclusive F1 Trackdraws children to build on their physical skills as they 'drive' cars and trikes. The Music studio is equipped with a Casio used by the Music teacher and various child appropriate instruments like shakers and tambourines. The Art Atelier is filled with materials that encourage creative development.
The Science atelier has an OHP which children tinker with, while the cozy Library has books appropriate for all ages. The concept of "Tech Studio" facilitates learning with developmentally appropriate devices such as i-pads.
Regular music sessions, foreign language introduction, sports and fitness classes are conducted for children by professionals as a part of the robust school routine.
The school has an entire wing dedicated for Child Care, which boasts a well-planned curriculum to ensure that the children are engaged in constructive activities apart from enjoying the 'homely' environment. At Vivero, Wakad parents are certain of their child's growth, happiness and all-round development.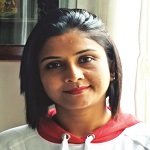 Shaoli Nioyogi - School Head
A dedicated academic professional, Mrs Shaoli Niyogi brings a decade long versatile work experience in the field of education into the folds of Vivero International. Ms Shaoli has a Masters degree in Economics along with a Bachelors degree in Education. With her background and excellent communication skills, Ms Shaoli is keen to share her expertise. She loves to reach out to each and every child and instill in them a lifelong love for learning.