Bengaluru - GTP, Bellandur
Vivero International Pre-School & Child Care, GTP, Outer Ring Road, Bengaluru sprawls over 6000 sq.ft. with its trademarked warm, stimulating and safe learning spaces.
Our unique Inquiry-Based Curriculum is designed for children aged 6 months to 8 years and constitutes as the main program on offer at our pre-school and childcare centre. This program is deeply rooted in the philosophy of Reggio Emilia and embedded in literacy, numeracy, creative, social, emotional and personal skills that are covered through the pre-schooling years. The curriculum leverages the UK Early Learning goals and is also grounded by current research and developments in the field of early childhood education, in particular, the work of The Centre on the Developing Child and HGSE at Harvard University, the International Baccalaureate (IB) and the Infant Toddler Centres of Reggio Emilia.
Our goal is to promote learning through the joy of discovery. Our child-centric and personalized learning programmes enable the child to prepare for the challenges of the 21st century.
Vivero International was launched in partnership with Eton House – one of Singapore's finest pre-schools over a decade ago, and ever since then, we have embraced all the best elements of Eton House' values to create an organization that keeps your child at the 'centre stage'.
The teacher, at VIVERO, acts as a facilitator, mentor and guide. Our teachers and caregivers share a common passion and goal and at our end, we ensure they are trained exclusively to work with young children and nurture them with love.
Classrooms, learning corners and ateliers are designed to stimulate the child's curiosity to explore and learn. Our waiting lounge opens up to the common space surrounded by classrooms; the 'Little Lunch Room', in-house kitchen and restrooms. Music corner, puppet theatre, mock vegetable market, mirror pyramid, light table and tech room add layers to the learning space. The Infant Care room has an attached feeding room for the convenience of nursing mothers.
The school takes pride to ensure conscious safety and security measures are in place in and around the campus. Quality staff, 24-hour security and monitored CCTVs in all areas of the school are some of the main security features. Food is prepared by the schools' in-house chef and is closely monitored to ensure high standards of quality and nutrition are adhered to. Health and Hygiene are the important facets that govern the school and take precedence in the school and childcare.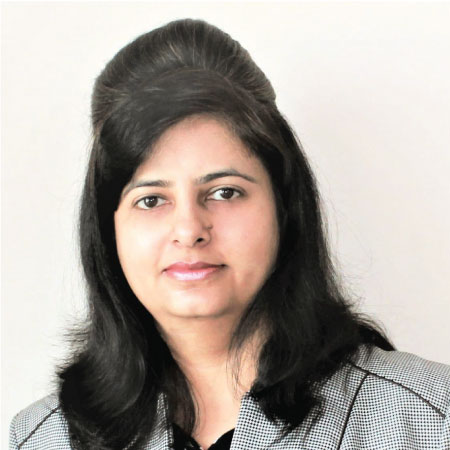 Neeta Chandani – School Head
Ms. Chandani brings a rich experience of over 8 years across foreign culture & language, corporate and diplomatic organisations including 3.5 years of experience in a leadership role, at an Early-Years set-up. She has also taken up many responsibilities including leading big teams, setting up a new school, and expansion of corporate early years centre with a satisfied parent group.
Ms.Chandani holds a Bachelors and Masters Degrees and along with many Indian dialects, she is also fluent in the French language.