Bengaluru - Sarjapur
Vivero International Pre-school & Child Care, Sarjapur is spread over 15000 sq.ft. and offers a world of opportunity for children to engage in learning experiences, both indoors and outdoors.
At VIVERO, we offer a unique Inquiry-Based Curriculum that is rooted in the Reggio Emilia philosophy. The curriculum brings together the mandatory learning domains of literacy, numeracy, creative, social, emotional and personal skills with the 'image of the child' at the center. The goal is to promote learning through the joy of wonder and discovery. This child-centric and personalized learning programme empowers the child to skillfully master challenges of the 21st century.
The school environment stands apart with its ample natural light and beauty along with wide-open spaces void of any clutter, but replete with authentic and safe materials. Age-appropriate manipulatives & tools are carefully selected and arranged in order to encourage children to delve deeper into their interests and be inspired to think and learn further.
While the huge aquarium and landscaped lush lawns are always a welcome sight for all ages, the highlight of the school is an exciting traffic park with a prominently popular driving track. This feature challenges and engages budding race car drivers; allowing them to practice their gross motor skills freely. Learning Spaces at VIVERO extends beyond the classrooms and take in all aspects of the natural and re-created environment, which is why 'learning corners' and 'ateliers' are designed with a great deal of thought and attention. The science and discovery corner, library and dramatic play stage all serve to provide a 'space' where young curious minds get to explore, understand and express according to their individual abilities.
At VIVERO, teachers act as a facilitator, a mentor and a guide. These Facilitators are responsible for creating projects and activities that are sorely based on the interests of children under their care. Our Curriculum Development team is credited in the study of Early Childhood Development and our teaching staff remains updated as per the best global teaching practices through regular training.
Health, safety and hygiene of our children are of paramount importance at VIVERO. The premise is under 24hrs security with prominent CCTV surveillance at all times. Sanitization and temperature checks on arrival ensure the child's safety and wellbeing on a daily basis.
Fresh meals are prepared by the in-house kitchen staff with menus recommended by nutritionists. The entire staff and care-taking personnel come together at Vivero after a rigorous verification process and mandatory training based on their willingness and ability to love and care for the children.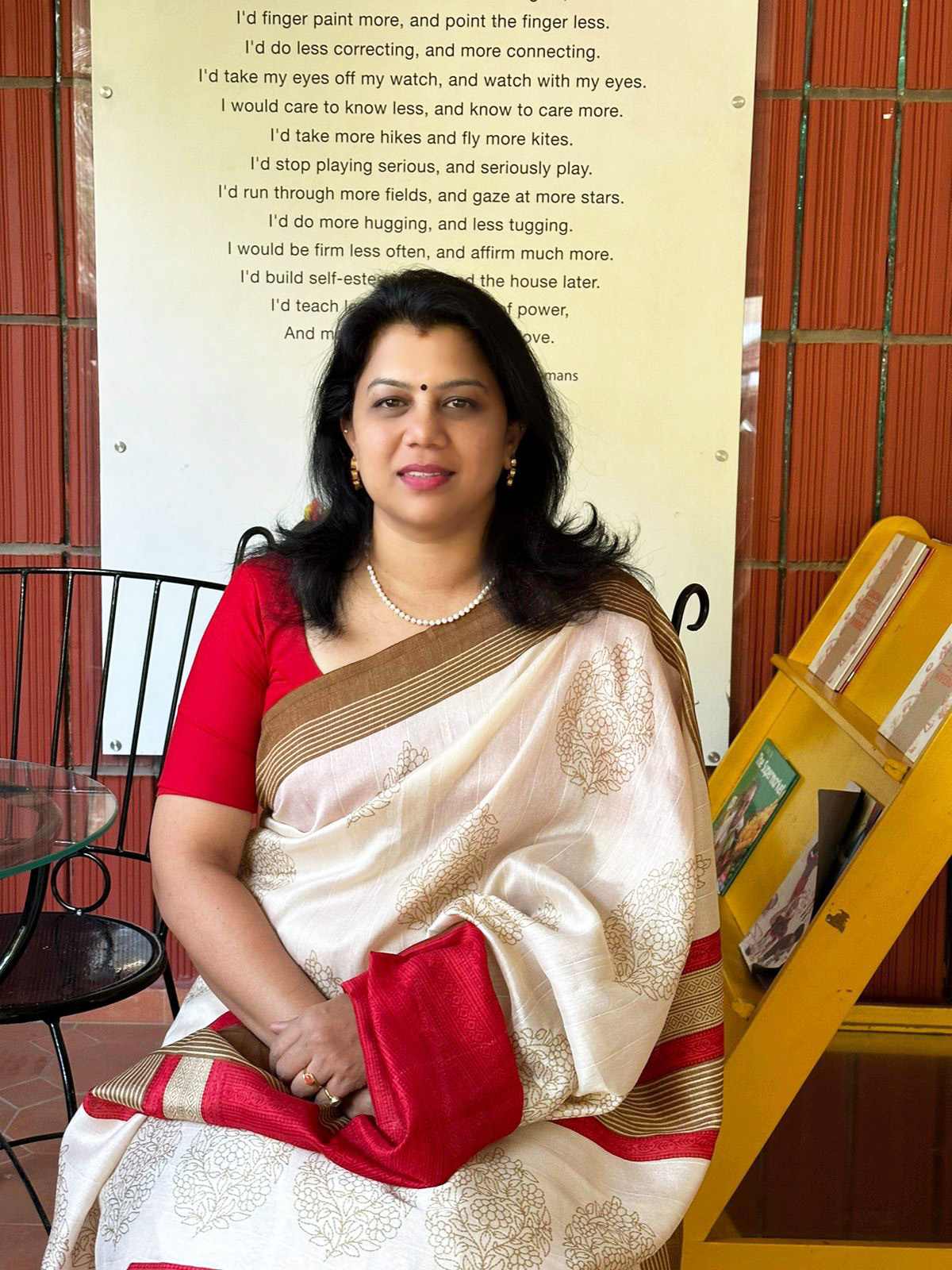 Aishwarya Yajaman – School Head
Aishwarya Yajaman is a passionate educationalist with a career in preschool education for over 15 years. She used her Post-Graduation Diploma in Business Administration to successfully run a preschool and child care. She is passionate about nurturing young minds and believes that each child is unique. Being a mother of 3 children, she has hands on experience in parenting and child care and enjoys interacting with children of all ages. She believes that "Learning never ends and gaining of knowledge is an ongoing process at all stages of life"