Pune - Balewadi
Vivero International Pre-school and Child Care at Balewadi is located in the heart of Baner – Balewadi vicinity. Our school prides itself on the quality of its educational and childcare programmes. The professionalism and empathy of its facilitators, enthusiastic learners and excellent support from the parents makes it one of the best place for Early Years learning & development.
We are inspired by the Reggio Emilia Approach which is based on the principles of the learners' ability to control the direction of their individual learning, Learning becomes a discovery of varied first-hand experiences of touch, movement, listening, and observing actions. Young learners are provided with endless ways & opportunities to express themselves.
Keeping the 'Image of the Child' at the centre, our school is designed as per the natural aesthetics of Reggio. Our preschool and childcare classrooms are spacious, airy & warmly welcoming. Every space is well organized with its selection of age-appropriate programmes, books & manipulatives. Designed to best inspire the child to explore inside as well as outside the classroom, the school outdoor play areas ensure a safe, secure and well equipped environment, complete with popular items & equipment's. The ateliers put up at several corners of the school make exploration and learning highly interesting for our young minds.
We also believe that technology in its own way plays a vital role in today's learning process. Our specially arranged Tech Studio designed with Apple configured devices, cater to students from Nursery to K2. They are gently introduced and given access to the iPads for their research and reconnoiter of multiple child friendly educational applications under the assistance of the trained facilitators. We do not encourage immense screen time and have planned the Tech Studio usage for a once a week experience only. 'Cubetto' and 'Dash', our two robot aides, make learning even more meaningful and fun.
At Vivero, Co-Curricular Activities are led by experts. These are a part of the enriching pre-school & childcare schedule with music sessions, introduction to a foreign language, sports and wellness classes. All personnel at Vivero are trained in administering basic First-Aid and operation of local fire extinguishers if required.
Safety and Security are of utmost importance to us and we ensure that our campus is childproofed in all anticipation, while surveillance cameras have been duly installed at strategic points. Trained security personnel are also stationed at the main entry-exit point at all times. Health and Well-being being important aspects are given due importance to. Our in-house kitchen caters to the children's daily meal requirements with wholesome, nourishing vegetarian meals.
An important feature of Vivero is our keen collaboration with parents as partners in the child's learning journey. With the 'Friends of VIVERO' venture, we have been successfully working hand in hand with our ever-growing parent community in order to make every day a joyful one for our children We strive to live our vision with the purpose of being committed to shape the responsible global citizens who are prepared for the 21st century.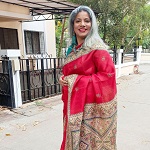 Radhika Srinivasan - School Head
Ms Radhika Srinivasan joins the Vivero International family as the School Head . She has been associated with school operations throughout her career of 16 years. Her recent assignment was at Vivero International Pre School & Childcare, Wakad.
Ms Srinivasan holds a Master's degree in English Literature and Personnel Management along with a Bachelors in Education. She also holds a professional diploma in Training and Teaching from Cambridge University.
With a strong belief in progressive learning methodologies, Ms Srinivasan says that "children have abundant energy which if channelized right from young age effectively, will lead them to be successful human beings in all spheres of life.