Bengaluru - Bagmane Tech Park
Located in the heart of a prominent software technology park, Vivero International Preschool & Child Care at Bagmane Tech Park sprawls over 1100 sq. ft of outdoor play area and 2100 sq.ft of covered area. With this centre at Bagmane Tech Park (BTP), Vivero International offers its 'first stand-alone Childcare Centre' for the Silicon city. Its proximity to Vivero International Preschool & Childcare at Indiranagar has the added advantage of providing a welcome option for parents who are seeking the preschool facility as well.

At Vivero International Childcare, BTP, we offer an enriching childcare programme that has been concentiously designed and carefully based on research focussed on the early year's only; i.e. for children aged 6 months to 12 years. At Vivero, we recognize children as individuals who are competent, curious, full of knowledge, have potential, and interested in connecting with the world around. Our proven childcare offerings ensure that children are provided with expert care and engaged with mindfully arranged curricular activities.

Our infant care programme is designed to engage the child's five senses in order to promote their natural instincts of curiosity and discovery. The Vivero Infant-Care room is thoughtfully set-up taking into consideration and in anticipation of the young infant's requirements along with a separate nursing room for mothers. Toddler activities are primarily focused to promote their innate curiosity and natural desire to explore the environment while keeping them safe, secure and happy.

Our childcare program utilizes developmentally appropriate materials and practices that enhance the child's social, emotional, physical, and intellectual development.

In terms of security, the centrally air-conditioned facility is equipped with a trusted Biometric fingerprint door-lock entrance that is manned at all times. Along with this, the area is also under CCTV surveillance.

The environment is completely child friendly with distinct emphasis on health, safety and hygiene which is of paramount importance for us. Daily quality checks of various areas and surroundings, daily temperature reading of children, scheduled fire drills, child friendly furniture and materials ensure that we follow a strict routine here at Vivero. Moreover, the entire unit undergoes a deep sanitization to ensure safety and well-being of the children.

The centre includes various learning zones and Ateliers along with extensive outdoor play spaces to intentionally support the environment as "the third teacher" and encourage the child's unique individual interests. Our prized, Apple-enabled tech studio is designed to teach our little learners to use technology mindfully, and assist in knowledge-building as they grow up into the citizens and leaders of tomorrow.

Freshly prepared snacks and meals are served to children from our in-house kitchen. A nutritious menu planned by our nutritionist is diligently followed, ensuring children have enjoyable, healthy meals in our care.

Overall, Vivero recognizes the importance of maintaining an appropriate teacher-child ratio along with qualified and experienced teachers. Every teacher at Vivero is selected through a rigorous recruitment process, adequate background checks and are given due trainings along with a detailed session on basic first-aid. Our executive caregivers also form an integral part of our team at Vivero and they are welcomed on-board along with the necessary trainings before they meet the children. Training sessions for the Care-givers include basic hygiene and grooming codes along with diaper-changing and tried & tested methods that have been adopted by Vivero International. Our teachers and caregivers share a common passion and goal and at our end, we ensure they are trained exclusively to work with young children and nurture them with love.

Communication between the Childcare centre and parents is an essential feature of our partnership and an integral element of our philosophy. Keeping this in mind, the Vivero Mobile app forms a direct link between the school and families. Parents are provided with a secure log-in to access newsletters, school circulars, upcoming events, weekly updates, notifications and reminders.

At Vivero, our team is devoted to providing families with a joyful 'Early Years' experience that continuously seeks to foster overall development and learning for our children.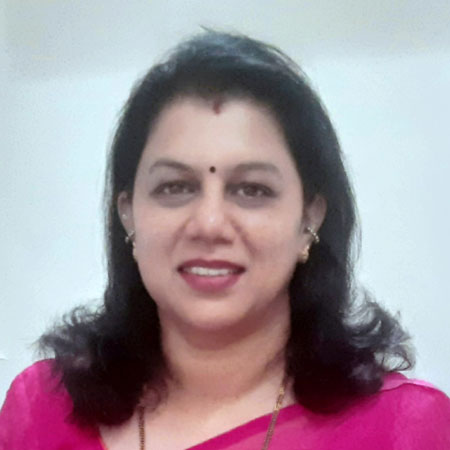 Aishwarya Yajaman – School Head
Aishwarya Yajaman is a passionate educationalist with a career in preschool education for over 15 years. She used her Post-Graduation Diploma in Business Administration to successfully run a preschool and child care. She is passionate about nurturing young minds and believes that each child is unique. Being a mother of 3 children, she has hands on experience in parenting and child care and enjoys interacting with children of all ages. She believes that "Learning never ends and gaining of knowledge is an ongoing process at all stages of life"