Bengaluru - Mahadevapura
Artfully designed around 7000sq.ft of bright, airy and inviting space, Vivero International Preschool and Childcare at Mahadevapura offers a comprehensive educational programme for the early childhood years between 6 months to 7 years.
Our unique Inquiry based approach has been a well-known trademark of VIVERO for over a decade. The approach is deeply inspired by the Reggio Emilia philosophy which has come about in-keeping with the 'image of the child' at its centre. The marked focus here is on creating and maintaining a child friendly, safe, secure and hygienic environment that is conducive to learning and development.
This niche programme offering is a perfect blend of excellent quality pre schooling from Pre nursery to Kindergarten and exceptional Child Care service'. With our exclusive programme for Infant-care, Vivero prides itself for having aided many young mothers get back to their career. Qualified and experienced care-givers are selected here to look after and/or nurse the young ones under their care.
A marked feature of the school is the 'tech-studio' which has been set up with iPads for young learners and arranged in association with Apple to introduce technology aided learning to children. Learning and development at Vivero goes well beyond the classrooms, hence the outdoor spaces are given a great deal of thought and attention. Our open play area, sand boxes, green walls, a traffic park and a busy board are all designed to pique the curiosity and interests of the child, prompting them to learn through wonder and discovery. Many zones and corners are set up for the children to explore and learn the mysteries of science, technology, engineering, literacy and numeracy. A puppet theatre and a pretend play corner allow children to develop their creativity and expression freely. Various learning corners and intriguing ateliers throughout the premise play important roles as they help to facilitate experiential learning through the created environments.
High standards of health and hygiene is maintained at all times. A 24hr security personnel, CCTV surveillance in all the areas of the school, daily temperature checks, regular sanitisation and child friendly furniture & resources are a few measures that are strictly followed and thoroughly audited.
Hot, fresh and tasty meals are prepared in-house and the menu is carefully planned to offer well-balanced nutrition for the children in a hygienic environment. We maintain ideal adult child ratio to ensure proper attention for all children and our team of teachers, facilitators and care-givers work towards a common goal and are committed in their role to provide a safe, creative and exciting environment to all children.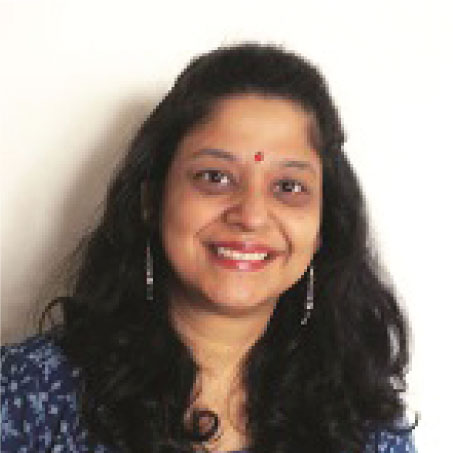 Shampa Goswami - School Head
Shampa Goswami is a passionate educational professional with over 10 years' experience in both India and USA. Her teaching career spans a wide spectrum from kindergarten to high school, from NGO funded schools to top international schools in Bangalore. She holds a Bachelor of Science degree from California State University, USA, as well as a certificate in early childhood development.
During her career, Shampa has pioneered the concept of child centric learning and firmly believes that every child has the potential to blossom in their own unique way. She brings to the school a holistic view of learning which is crucial for early childhood development.