Bengaluru - Indiranagar
Vivero International Pre-school & Child Care, Indiranagar sprawls over 5,000 sq. ft., of inviting space and offers a unique educational program for children aged between 6 months to 8 years in a proven international preschool environment. It also houses a world-class Childcare facility at the centre.
As an International Baccalaureate authorized World School, the curriculum at Vivero is varied and joyful as it takes inspiration from the best practices of early years learning worldwide. It is specifically designed to suit individual unique learning styles and is topped off with an integral learning philosophy that follows the Inquiry based approach of Reggio Emilia.
Each bright and airy class room at Vivero is put-together with a thoughtful selection of manipulatives and natural resources that stimulate the children's curiosity and inspires them towards exploration and learning. All learning spaces are arranged with interesting corners and 'ateliers' that help to encourage focus, creativity and expression as per the theme around which they are designed. Professionally trained teachers or 'facilitators', facilitate the learning process that is complimented by a holistic, stress-free developmental environment.
The outdoor space features a prominent play area, an inviting sand-play corner and the all-favourite 'tree-house'. The waiting bay opens up into the 'Atelier' which is a specially designed learning area where a music corner, a science corner, a mock supermarket area, an aquarium, mirror pyramid and light table all come together to add layers to the activity of learning.
The child care facility at Vivero Indiranagar comes equipped with a calming nap-room, a pretend play corner, a community dining space and a soft-manipulative corner. Mealtime here is a wonderful affair with food being prepared by the school's in-house chef as per the seasonal menus planned in consultation with a certified nutritionist. All this is closely monitored to ensure high standards of quality and nutrition.
All Vivero Pre-Schools and Childcare centres deem it a matter of utmost importance and take pride in ensuring the safety and security measures at all times. Starting with the appointment of proper, verified and trained staff, the school has 24hour security along with CCTV surveillance for all the major areas. Needless to add, stringent health and hygiene standards are practiced at all times and quality audit checks take place to ensure that the Vivero seal of safety, security and hygiene is intact at all times.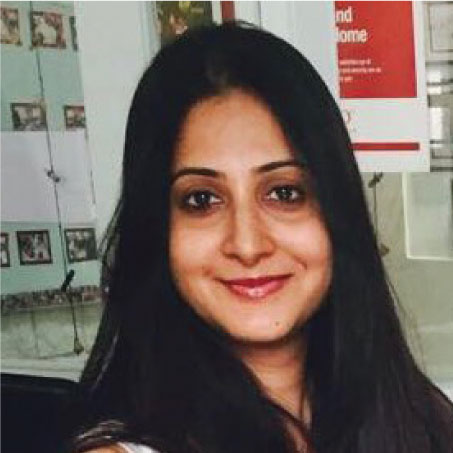 Sapna Erappa – School Head
Ms. Sapna Erappa has been practicing in the field of Early Childhood Education since the past six years. She has also worked in the banking sector in diversified roles. She holds a degree in Finance and Economics and has attended various workshops on IB and Reggio Emilia philosophies.
Her passion lies in working with young children – to provide an enriching, safe and a positive environment in her school. Creative and innovative, she constantly strives towards uplifting the quality of work that is delivered by the teachers. Sets high standards for herself and the team!