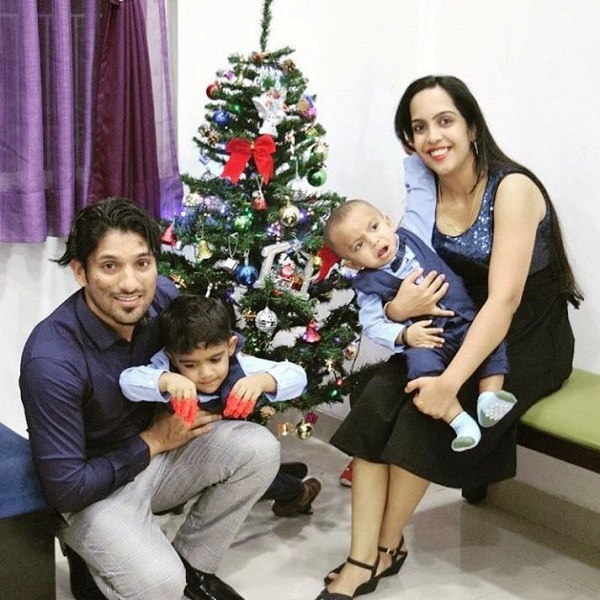 We have read through the portfolio for Unit -1 and appreciate the knowledge transfer Kiaan is experiencing with you and his friends. It's beautiful to witness how dedicated you are in teaching and help each child be in sync, it's a different thing when the child is present physically and when the child is connected just through the screen and you make it so smooth for them to be there, to listen, to communicate.
There is a lot of effort that goes into it and then reading through the child's mind while taking the session is again next level. Sincere thanks in going above and beyond.
- Ayesha Mengu, Mother of Kiaan Mengu, Kindergarten 1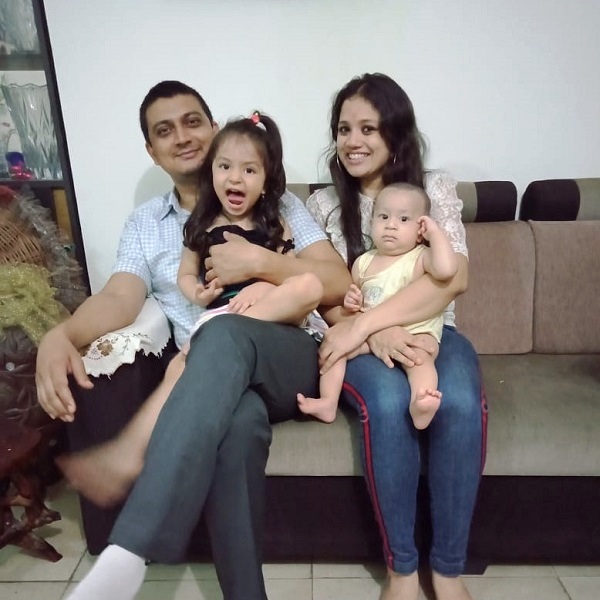 This week was the best of all weeks. Anahita totally enjoyed every bit. The activities, the different games that you play to make kids understand senses and numbers, it's just too good. It is working for the kids, they understand and most of all they enjoy learning new things. It is very difficult for me to make Anahita sit for the sessions. These small kids they don't want to sit at one place. But the moment she sees her teacher's big bright smile, she gets ready to sit for the entire class. She really likes her class teacher. And that is of course because of the way you deal with the children. It's very nice and totally commendable. Even your replies to my mails and queries, they are totally prompt and satisfactory.
Thank you so very much. - Ishika Patil, Mother of Anahita Patil, Nursery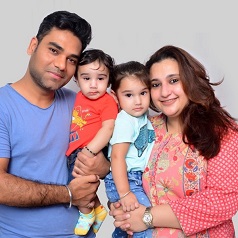 Before I begin, I have to tell you how much I love Vivero. 'LOVE YOU VIVERO'.
My daughter joined Vivero International and my son followed soon, and I can't be more relieved and happy with what you all have done for these children. My kids love coming to school, they leave with a smile and come back with it too. As a parent, a mother, I think the biggest doubt is the education her children get. Like all parents we too wanted the best for our babies and it gives me immense pleasure to tell you that Vivero has gone way beyond every expectation.
Let me start with the captain of the ship, the School Head, she has steered the vessel so well. Her pleasing, soft and caring personality is magnetic. She ensures every parent and child is involved actively in each other's lives. Makes time to attend to every parent and every child no matter how busy she is, just boosts the confidence and happiness to another level. These lines I have written above are just an outline, there is so much more to this. All I can say to sum up everything is 'THANK YOU'.
What can I say about the talented and absolutely wonderful teachers of the school. They are the right pillars for the correct and best upbringing of the children. I have immense respect for the profession, as my mother has been a teacher as well. Back home we do our best to teach basics but the largest part of a child's life is spent with his/her school and teachers. What you are all doing is something we cannot do, hats off and yes, a huge 'THANK YOU'.
Not to forget, an important individual who is not only a pleasing personality but a positive soul too. She has a very warm and beautiful, inviting smile. I am writing about the PRM. I admire her for the kind of support she is to the School Head, there is no query or problem that she cannot solve and that too with such ease and a warm smile. 'THANK YOU'.
At this point I must thank the didi's in each class, the guards and all others whose support is equally important for the correct functioning and safety of the children. There is nothing more important to us than the safe environment that Vivero offers and that cannot be possible without the help of the support staff. 'THANK YOU'.
Apologies if I have not included someone, all I would like to say is that we are highly grateful and happy to have our children, Ruvi and Reyansh, grow and learn with the entire Vivero International School's team.
Kudos, a thundering applause and a bow for thanking you and showing just how grateful we are to be a part of this amazing family. There is no family, no work or no individual who can succeed with an inspiration or a leader. This love and satisfaction, all these thank you's I have penned down above would not be possible without the School Head's leadership. A true successful or a happy team is a clear reflection of how their captain is.
I can go on and on about the appreciation and love I have for this most esteemed organization. I will just sum it all up and say, 'THANK YOU VIVERO'. - Rudna Sabherwal, Mother of Ruvi, Kindergarten I and Reyansh, Nursery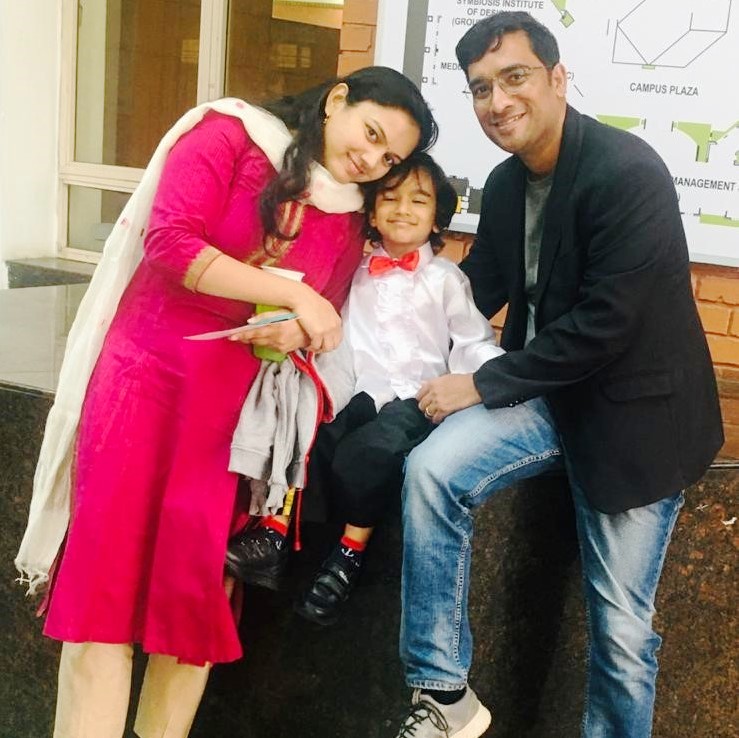 Thank you so much for the session. Vihaan really enjoyed the time with his teachers and friends. We really appreciate this initiative by the School to keep kids engaged with activities, worksheets and fun that make these live sessions effective. - Swati, Vihaan Lahane, Nursery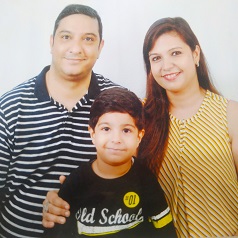 Please take a bow...!! It was a great Annual show, Very nicely managed, coordinated and conducted.
It was really overwhelming to see our little Babies who just learned to walk were performing for the first time on the stage and I can vouch that all parents were amazed to witness how nicely all the kids were following the instructions and doing what they were supposed to do.
Indeed it's not easy to face audience and perform and all of these Munchkins did it really well and all the credit goes to you all.Lots of patience, tons of energy, time, coordination and creativity has gone behind this awesome event.
So Thank you all and I am confident my little man (Shivaan -Nursery) is in right hands. :)
Special thanks to his teachers for always being so helpful and showing lots of patience with the mischievous lot. - Honey Sharma, Mother of Shivaan, Nursery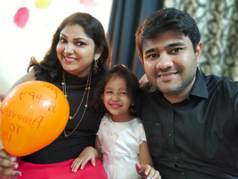 The Anuual function was very well organized. Kids performed really beautifully and confidently. This whole experience was overwhelming.
One thing that attracted to me was the discipline and the management. It was very well coordinated.
Once again, Big Thanks to Vivero Team for providing Ritvi her first platform on stage. - Richa & Ravi, Parents of Ritvi, ChildCare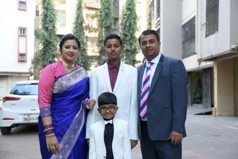 Thank you so much for giving our children a chance to showcase their talent and confidence on stage. It was a wonderful Annual show!! Kudos to the School Head and her team of teachers and staff for putting up such a brilliant show. The dances were great and the skit was a lovely addition. We enjoyed a lot!!! Thanks! - Priyadarshini & Sarvesh, Parents of Suhrut, Kindergarten 1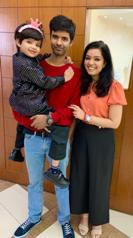 Thanks for yet another awesome Annual day concert! We thoroughly enjoyed each and every performance (starting with the cuteness and innocence personified - number by the Pre-nursery) and the timeliness and discipline followed during the show. It was perfect. I would specially like to applaud the performance by Rianshi's K2 class as a parent as well as an audience. The message, the costumes, music, choreography, were quite powerful and apt for a senior outgoing class of students. It was inspiring for children and grown-ups. The message that we all can be superheroes! I would really wish that you include a similar program in future concerts as well.
Me and Rianshi's father also noted a marked increase in Rianshi's confidence, enthusiasm and level of happiness during the show, be it while hosting, or dancing or at graduation. My thanks to all her teachers during this past year who I am sure were a factor to this change. Her 'all boys' class is too adorable for words and will be truly missed by us. Hopefully some of them will be her future classmates also.
We are happy that Rianshi was part of Vivero for the past 3 years.
Kindly thank all the teachers and staff on my behalf who were part of this show right from the awesome dresses (that fit the children to the T), to the music, choreography to the organising and backstage handling.
Thanks and Regards, - Riddhi Varma, Mother of Rianshi, Kindergarten 2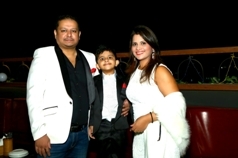 Hats off to the entire Vivero, Magarpatta team for hosting such a lovely annual day function. I must say that every minute of it was 100% entertaining. Must appreciate the teachers & support staff who took the entire responsibility of dressing up the children and taking care of them throughout the function, whilst we parents sat back and enjoyed the annual day fun. I could never think, my son would perform so well on the stage. My special thanks to the School Head and his K1 teacher. Keep up this good work. It was really a good treat for all the parents. - Renu & Nazeem, Parents of Ayaan P, Kindergarten 1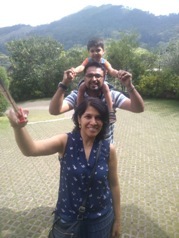 It was a wonderful concert, I couldn't stay till the end but my husband praised it as he was in the audience and he thoroughly enjoyed it!
Credit goes to all the teachers and staff members who had so much patience and put in so much of their time and hard work in creating these beautiful memories.
Ayaan was cranky backstage and crying. When I went backstage I saw the teacher cradling and comforting him. It was a really touching moment for me as along with her, all teachers and support staff take care of our children as their own.
Thank you for your wonderful school and keeping us working mothers at peace at work knowing that our children are in good hands. - Monica & Prakash, Parents of Ayaan Khemlani, Nursery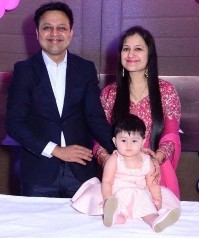 I wanted to take this opportunity to thank you for the wonderful experience we've had for our short time with Vivero! To be able to relate almost immediately specially after moving from the US was very welcoming. My daughter Zoey would look forward to going to school every day and that gave me the assurance that she is doing extremely well. I could see her develop new skill set and enhance her social skills.
The standards are maintained well and the teaching methods are effective too. Just the right package for the growing minds of the toddlers.
A shout out to her teacher too for being extremely patient with Zoey and helping her learn something new every day.
Zoey just can't get enough of the PRM and she calls her new teacher with the same name as she is extremely fond of her. A name engraved in her heart and I'm so glad and thankful for giving her the pleasant memories.
Our gratitude to the School Head for being a parent first. She has exceptional listening skills and her dedication and commitment to the school is outstanding. Thank you everyone for the professionalism, compassion, and commitment to your profession and the attention provided towards the needs of students at all age levels.
I appreciate it. I wish we hadn't moved back to US so I could be assured that Zoey is in safe hands.
I wish Vivero much success and sending a ton of love from California :) - Abhilasha Jain, Mother of Zoey Jain, Pre-nursery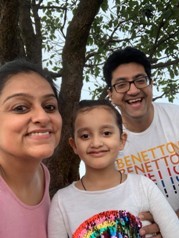 Vivero Day care is the second place to home where children get much needed attention and affection. My daughter Seerat has been going there for a long time now and is extremely happy and looks forward to it daily. All teachers and Maushi's are very kind, helpful, generous and caring. They will always welcome kids with a broad smile. When I am at work, I am tension free that my child is in safe hands and taken care of. The entire staff is approachable. There is a daily report shared, weekly updates shared, weekly menu shared which is well organized and much appreciated. The regular music/karate/storytelling and many such activities are enjoyed by kids. They keep us as parents involved as well by coordinating some activities and PTM. Overall, I m a very happy and satisfied parent and glad to be a part of Vivero family. Wish you all the best! - Jasleen Kaur Rai, Manager-Client Operations, BNY Mellon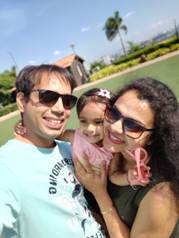 Siya was 22 months old and could barely speak a few words, when we had put her in Vivero in Pre-nursery.
I must say, my child is very happy, the teaching staff is very good at nurturing and developing the children's academic skills as well as social interaction and productive play. Not just the Teaching Staff, my child equally loves the helping staff that shows the kind of love and care children are being attended with.
We would like to appreciate all the efforts that the entire Vivero team is putting in building a strong base for our child's future through early childhood education. Their unique teaching techniques are wonderful and we are extremely happy that we chose to send our child to Vivero. - Neha Joshi, Associate Manager, Accenture
"When I was searching for daycare for my 6-month-old daughter, I knew that I wanted her to be with a loving family in a home environment. I did not want her to be one of 20-30 babies in a loud, chaotic, crowded facility. The moment I stepped into Vivero Magarpatta I knew this is where Aadya needed to be. It was calm, serene, clean, and just felt like home. I made that decision 5 ½ years ago and I have not regretted it one single day in all those years. We get comments ALL THE TIME about how polite and respectful our daughter is and I owe that to Vivero. Thanks to the amazing staff in Aadya's class and at the center, her confidence has increased. They do lots of different activities to promote independence and have helped our daughter to trust other adults. The staff really cares for the children and makes every effort to make sure the kids are well taken care of and most importantly have a good time. The center also organizes several fun family activities (e.g. Momma's day, Father's Day, Halloween party, Annual concert, etc.) and always ensure the parents are kept up to date about what is happening at the center. We would highly recommend Vivero Child Care Center". - Dipti Gote, Team Lead, Amdocs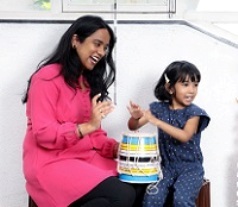 I love the way teachers give personal attention to my daughter in Vivero. It is so amazing to see her strong opinion on pollution at such a tender age. We also admire her curiosity towards festivals, community helpers and logic with which she explains all our queries. Thanks to the Vivero team for this. - Archana Reddy, Project Manager, Amdocs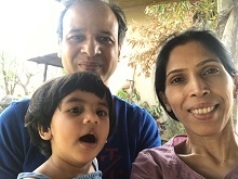 SAACHI joined Vivero International in the play group. During the first month it had been a big task to take her to school and thereafter on reaching the school, leaving her there. She would cry inconsolably. She had separation anxiety issues, disturbed sleep, crying in her sleep, lack of appetite etc.
We were really very worried and decided to take it slowly and let her take time to settle down. The teachers at Vivero were very supportive at this stage. They let my wife be around the whole time with her in the school premises and also in the class at times.
But by persistence & loving efforts and various ideas by all her teachers from time to time and the school head, they made her overcome her fear day by day and today we are proud as her parents and more proud of VIVERO INTERNATIONAL and their teachers and school head to have achieved this tough task. - Shyam Davawala, Chartered Accountant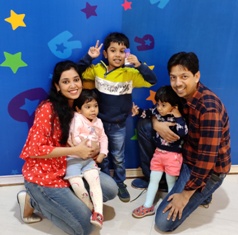 Our elder son started going to Vivero when he was 10 months old. We have really seen a good development in him. The teachers and the staff are very caring and the daily activities are designed so well to keep the kids engaged and help in their mental and physical development. Our twins also started going after they turned 1. I must say all 3 of them are very comfortable there and love going to the daycare. There is something new that they explore and learn each day and try to be independent which is very important. - Saba Zafar, Mother of Adeel, Norah & Alena, Pre-school & TTP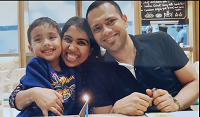 Our son Vivaan (Joy) is going to Vivero day care since he was 2 years old. He is about to be 6 now and we are really happy with the care provided by Vivero. The teachers and support staff are really exceptional. They provide personal attention to each student and know/understand that each child is unique. Our son has improved remarkably in his eating habits due to constant efforts from his teachers and he always have yum things to tell about the food provided and chefs??
It gives us a very comfortable feeling to see Joy happy and enjoying his time in the daycare.
We have recommended it to many of our friends as well.
Thanks again for all the care and love ?? - Amit & Neelima, Parents of Vivaan, Child Care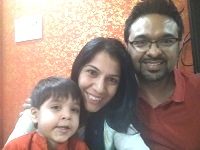 Vivero childcare is doing a wonderful job as my son Ayaan Khemlani loves going there every day and it's practically his second home. Everyone takes care of him as if he's part of the family, from Sonali and Radhika to his teachers right to all the support staff. Vivero organizes marvelous events also which not only is aimed at children but at the parents too, recently the daddy's day out was quite a surprise as my husband had so much fun along with the other fathers.
Buddy day was a wonderful concept where all the children had to bring along a friend and Ayaan had a fantastic time. I am impressed by the number of events the school organizes and at how well they are organized and with so much attention to detail. Ayaan has learnt to share with his friends and his manners are impeccable; from a simple thing of thank you and please just shows at how well his teachers are teaching him to respect and be grateful.
A big thank you to Vivero for helping us working mothers be relaxed and tension free as we know that our children are safe and in a cheerful and happy environment. - Monica Khemlani, Mother of Ayaan Khemlani, Pre-school Care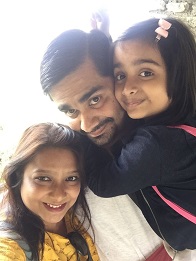 Vivero for my daughter is home away from home. She was one of the first to join Vivero in 2013 and has been part of the Vivero family for 6 years now. The comfort that this place provides a mother is something that cannot be expressed in words. Food hygiene, security measures, care for a child's psychology are factors that makes the experience very enriching. My heartfelt gratitude to each and every member of the Vivero team for being there for like an extended family for my daughter. - Nishith Pattnaik, Father of Sharanya Patnaik, Afterschooler

Choosing a daycare for your child is probably one of the most difficult tasks. However, the reassurance provided by the Vivero staff was a source of strength during the initial adjustment period when my child began day care. Their well-rounded curriculum helps shape the personality of the little toddlers. Every time someone compliments me on the well mannered and cultured behavior of my child , I send a mental thank you note to Vivero which plays a crucial role in the upbringing of my child.
As a side note, the food at Vivero is a hit not only with the kids but among the parents too. - Amruta Hungund, Senior Technical Editor, TIBCO Software Inc., Mother of Shuhul Dukare

I have been associated with Vivero child care for the past 2 years now. It has been such a good support for me as a working woman.The teachers and staff are warm and take care of our little ones which is a boon.The environment is unique and leads to a child's holistic development. The entire team of teachers, didis and specialized trainers make the environment so child friendly that it has become a second home for my child. The weekly food menu is wonderful,which helps the child to develop health eating habits.Celebration of all festivals and enthusiasm is at its best at all times.
Thanks to the entire Vivero Team!!!Priyanka Virulkar, Lead Analyst, Principal Financial Group, Mother of Aayansh Bhusari

Our twin daughters Norah and Sarah are really in love with (the team at) Vivero. Every day, they can't wait to meet their (best) friends at the daycare centre and enjoy their time 'at home away from home'. And the best feedback comes from our daughters themselves: There is no day where our little ones do not literally 'hug' the Vivero team when leaving to go home; it is difficult to capture this in word; kids and their innocent, pure enjoyment of discovering the little and big things of the world. Thank you Vivero!Patrick, R & D Senior Director, Avaya, Father of Sarah Peisker

We enrolled our daughter Ashima [Tiya] in Vivero child care when she was just 15 months old and since then we are very grateful for the loving care and guidance she receives at the center.
Ashima loves to go to Vivero and enjoys the learning activities, spending time with her friends,teachers and returns home singing new songs every evening.
Like all other parents it was not easy for us to leave her at the child care center but it was made so much easier by the wonderful teachers and staff. Our mind is at peace to know Ashima is in a safe, fun place everyday. Teachers at Vivero are very professional and extremely friendly to all the children and they always tell me what my daughter has done and accomplished.
Keep up the great work team Vivero!! Reema Pal, Module Lead, Avaya, Mother of Ashima Pal

My child Vivaan (Joy) has been going to Vivero day care since last 1 year. I am extremely happy and satisfied with the love and care he gets there. All his teachers are very friendly and patient. They put in a lot of effort in understanding the behavior and needs of every child. He is also very attached to the support staff and remembers them at home as well….which shows how affectionate they are to him.
Over this year, he has really improved on his eating habits and overall participation in the class activities. Fun activities like karate, zoomer, zumba, story-telling, painting, dancing, cooking, skating etc. keep the kids constructively engaged and improve their skills.
I feel Vivero is not only a child-care but a child-development center. I am also very impressed with their facility where they take utmost care of hygiene and safety of the children. They have organized the center very well and decorated it with the things made by the children.
I am really grateful to the entire staff of Vivero to be able to create an environment where children feel so well cared for and loved.
- Neelima,

Mother of Vivvan

I had been a worrying, crying Mom when Vir started Day Care. I just couldn't overcome my guilt of keeping him away from home for so long. But his transformation process has been tremendous and he settled just so beautifully that I got jealous of the fact that he's keeping so happy without Mom!! :D But on a serious note, the cooperation & motivation given to new parents, & not to miss the - love & warmth provided by the teachers and whole staff to kids is commendable.
I feel so content and relieved when Vir runs to reach the Vivero entrance.I am very grateful to the teachers and the support staff for taking care of Vir so well and providing him a home away from home. The center is so beautifully done that kids just can't miss home. The activities laid out for kids are very thoughtfully planned and introduce an all new way of learning - that'sLearning by Doing!!" I am glad to have my kid at Vivero.
- Pragati Soni,

PDCI, Accenture Services Pvt Ltd,Mother of VirSoni (Infant Care)

I would on behalf of my family like to thank you and the Vivero family for providing a safe and loving environment to both my kids.I would also like to thank the teachers and the support staff for being so loving, caring and considerate towards the children.I can for sure say today, after sending my kids for almost three months now that it's not just day care but a HOME CARE, where I can stay assured of their safety, hygiene and healthy growth. Which would never be possible without your guidance and support. Thanks!
- Lata Raisingani,

Tech Mahindra, Mother of Pearl & Aishwi(Infant Care and After-SchoolerProgramme)

I wanted to let you know how much we appreciate the Daycare staff members and the facility provided to my daughter, KrishaPonia, age 4 years. For the first 2-3 days she was a bit hesitant to go to the Vivero daycare but after she became comfortable, she never wants to miss a day. She thoroughly enjoys her time, the snacks that are provided and the class activities that are conducted by the teacher.To start with, I was impressed by the way I was taken through the fee structure, it was detailed and transparent. I appreciate the help provided as this was the first time I was sending my daughter to a daycare; I was given the flexibility to experiment with the timings. I was introduced to the staff members and given a detailed tour of the facility. I also would like to take this opportunity to thank the teachers for taking good care of my daughter. Earlier, my daughter was not comfortable while speaking in English, but now she takes that effort to speak at least. I can see that improvement by the day, all thanks to the teacher. Krisha is quite fond of her teacher and I guess this is because of the quality time being spent with her. I think the 3 hours that my daughter spends in Vivero are full of care and excitement. Earlier she never used to eat different variety of food, but since the time she has gone to Vivero daycare, I guess the teacher has succeeded in getting her to eat different food.
- Rajat Ponia,

EXl,Father of Krisha Ponia (After-schooler Programme)

Our whole experience with Vivero International is extremely positive. May it be the first call or the first visit, the Center Head always welcomed all our questions and has been very informative. The entire staff at Vivero International sends such positive vibes with the every day morning greetings and Bye Bye and treats everyone with great respect. The smell of warm food cooked at Vivero tickles our taste glands when you visit them during lunch. And how do we miss our daughter's Hello song. Thank you to all her teachers, "We are made to sing the hello song every day at home by our daughter" .What a great place for children!! Thank you Vivero for making our working exp so comfortable by taking care of our Angel so well that we can concentrate on our work.
- Ashwin Kulkarni

SAP BPC Consultant, Computer Sciences Corp. India Pvt. Ltd., Father of Katyayanee (Toddler Care)

My son joined Vivero when he was 6 months, now he is 2 years old and I must say, he enjoyed the experience and journey of his childhood thoroughly. As a parent specially as a mom I agree that it was the best decision taken for him. The environment is unique and leads to a child's holistic development. The entire team of child care supervisors, support staff and specialized trainers make the environment so child friendly that it has become a second home for my child. The weekly food menu is wonderful, which helps the child to get good habits of eating. Celebration of all festivals and enthusiasm is at its best all times. As the caption says, it is certainly A HOME CARE NOT CHILD CARE.I recommend it to all the parents. The best choice for the little angels.
- Vishal Kumar,

Team Lead, Inautix
- Shikha Yadav,

Team Lead, Accenture

Almost three years of a truly fruitful association with Vivero Child Care. We still remember the first day of our daughter Kayna to the day care and today is the day when she loves to be there with her friends and teachers. A more confident and understanding individual has been shaped. Thanks to the whole team of Vivero for making this possible and being an extended family to us. Many more years to go together.
- BhupinderKaithwas,

Manager Accounts, Seimens Industries Software
- Swati Kaithwas,

Assistant Manager Human Resource, Bauli India Limited

Just taking out a moment to bring out certain aspects of Vivero which have made my experience delightful. It was a heart-breaking decision to put Khumani in day care. The first day like any other mom, I cried too. :) However, since that day I have wondered why did I cry in the first place. Vivero looks after my baby as their own without leaving anything for me to worry about. There have been days when I have forgotten to send diapers, or wipes but the Vivero team has taken care and been kind.
The best part is that even though my baby was about 10 1/2 months old at the time of joining yet the staff ensured some discipline and a lot of learning for her. I am surprised at Khumani's abilities, be it responding to instructions such as sit down or sleep or performing an action song!
Logistically, pick up and drop are timely and that's a big help as I am a working parent. Undoubtedly Vivero has become an extended family in every sense of the word, as everyone embraces Khumani with loads of love and care. Heartfelt gratitude for taking care of the minutest detail and cheers to Vivero. Look forward for your continued support! - Swati Sakpal, Corporate Engagements - PMO Professional, Amdocs, India

Making a comeback at work after raising twin daughters for four years was scary and not easy but Vivero made it possible for me. Especially, the initial phase when my children were away from me for the first time was handled so beautifully and sensitively by the teachers and staff at Vivero.
I feel fortunate to have found a second home for my girls where they are in hands of caring professionals who cherish them and believe that a child is a parent's whole world.
The best part is that they offer a variety of developmentally appropriate indoor and outdoor activities which add up to the whole positive experience.
Thanks to the lovely Vivero family for helping me to return to work confidently with a trust that my children are well cared for, nurtured and loved when they come after school to Vivero. - Prakash Upreti, Global Head Payments, HSBC Business Bay, Father of Gargi and Trisha

We would like to take this opportunity to appreciate you all from the bottom of our hearts for the love and affection you have bestowed on our child - Kabir Srivastava.Initially we were so skeptical as to how things would work out as leaving our child in someone else's arms is really a tough call for the parents but the entire staff at Vivero Magarpattahas proved to be a second home for our child.Within such a short span of time we can see a lot of positive changes in Kabir with all the activities that you conduct and the care each one of you take is worth mentioning.
The Centre Head, PRM, teachers and all the other team members are all really doing a great job. Keep it up.Kudos to the entire team!! - AnubhaKulshrestha, TCS, Pune - Vishal Srivastava, ZS Associates, Pune

For a parent the only thing that matters is the safety, security, happiness and all round growth of the child. I feel great while writing a review for Vivero day care. This place has given my child everything I was looking for. I could see positive development in my two and a half year old son. The feeling that my son is happy going to the day care in itself speaks volumes for this place and its staff. Thank you Vivero team! - Ramya

It's been great relief as parents finding Vivero so cautious and sensitive about the needs of each child. Our special thanks to the teachers, they really understand the nature and choice of Shubhanshi and helped her grow as healthy kid. We are so happy that she has developed healthy eating habits. The support staff is well trained and maintains the hygiene factor much required in a daycare.
Thank you Vivero, it's been a remarkable journey for Shubhanshi and we are going to miss you a lot in the coming days. Keep up the good work! - Suruchi Kumari Arya & Subham, Parents of Shubhanshi

My daughter SwaraGandhi, is a part of TEAM VIVERO since October 2017. I am extremely satisfied by the care and value addition you have provided till now to my daughter. I would like to appreciate the following personnel for their dedication to their work. 1. Support staff – Skills in handling and taking care of children. 2. Class Teacher – For the developmental activities for children. 3. PRE – Skills for interacting with parents.
I would like to appreciate the Centre Head, for providing excellent man power and resources for child care. More importantly, the kind of attachment she has with the children is to be appreciated. Last, but not the least, I would like to appreciate all the supporting staff of Team VIVERO without whom this kind of satisfaction can never be achieved.
To Honeywell Team, I would like to thank my Employer, M/s. Honeywell for giving me an opportunity to provide such an excellent opportunity for my daughter. I am very much satisfied with the facilities provided by the day care. I am happy to say that now my daughter is in safe hands while I am at work and I don't have to worry about her during my work time. - Mamta Marlecha, Sr. Technical Training Specialist (Automation College), Honeywell Automation India Ltd.

Words are not enough for me to speak about Vivero. Some words that come to my mind: Vivero is love, care, concern, etiquettes, play, discipline and so much more. My son Vinay is six and what I was waiting for in the past few years has happened at Vivero. He was a fussy eater. He would not eat anything except parathas and dosas. I've been trying to feed him rice, vegetables and fruits but all my efforts went in vain. But at Vivero with the persuasion and encouragement given, he's eating almost anything now. A special thanks to the teachers for their efforts. Vinay likes to go to Vivero. He liked it the first time he saw the place. For a parent, day care is the place where her heart is. I know my child is safe and taken utmost care with a touch of love. A heartfelt thanks to all the teachers, support staff and not to forget the Centre Head for her efficient leadership.- Dr. Asha LathaNelli, Assistant Professor, VishwashantiGurukul Teachers Training Academy B.Ed College, Loni Kalbhor

I would like to express my appreciation for the love, support, guidance, assistance and much more that you have done for my daughter-AadyaShelar. I am hoping that God will give you much more patience for our children.I am aware it's not easy for you but I feel I need to share this with you. You are doing much more than you should and assigned to do. I highly appreciate that and I am grateful for everything. It's sad how much our children give you difficult time while you are helping them to be better people and leaders.
I wish they had the understanding of Vivero- a place where life is nurtured. The question is; are we appreciating the effort as parents and learners of the school? This is a wonderful gift from God; you are a gift from God.
Our children have a second trusted home "Vivero" and that's why I feel I must inform you that "you are appreciated and the work you do and the support you give the learners" they may not see that now, but tomorrow (in the future) they will. Even if they are playful in time they will cry for the time they wasted and you keep up the good work.
I am really appreciating you all and wish God to give you much more strength and courage to do what you're destined to do. You are blessed as teachers with a talent that no one can ever take from you. I would call it a calling. You are really called teachers not because you want to make money but to make a difference in our children.
Thank you to the cooks too for making the food for our children. Thank you to the funders of the school for making a difference in our children's lives by giving them education.
- Dipti & Amit Shelar, Parents of Aadya Shelar

I have had a very positive experience after enrolling my child at the centre. The centre staff, the learning module followed and the activities organized are exemplary. I have noticed a positive change in my daughter's vocabulary and behavior and we cannot thank the centre enough for the same. - Bhavana Thakore, Mother of Aarna (Infant Care)